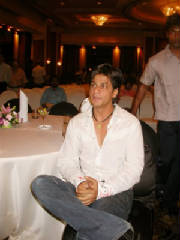 Profile
Name: Shahrukh Khan

Adress: Amrit- Bandra, Carter Road 603, 400050 (West Mumbai)

Date of Birth: 02-11-1965

Place of Birth: New Delhi, India

Sister: Shehnaz Wife: Gauri Son: Aryan Daughter: Suhana

Father: Taj Khan, died 1981. He was a lawyer

Mother: Fatima died 1991. She was a social worker

Hobby's: Playing computer games, acting

Education: From St.Columbia Hight school in New Delhi

Graduation: From Hansraj College, Delhi univ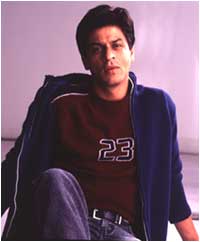 Favorite Movie: His favourite film in which he has acted is 'Kabhi haan kabhi naan'. Where he portrayed a "Chaplinesque character".
Favourite Food: Tandoori Chicken
If not an Actor : In the arm force or a school teacher.
Most Embarassing Moment: Too conscious about myself
Most Happiest Moment: When he got married and when he got his first film fare award.
Most Saddest Moment: When his mother and father passed away-"I can't get that out of my system".
Pets: He had two dogs-Tobecca and Rebecca.. Rebecca died.
Loves: His wife, sister, (mother, father), dog, house and work.
Hates: Liars
Admires: Mother Teresa
Historical figure he identifies with: Gengis khan, Hitler and Napolean.
Favourite actors: Amitabh Bachan, Dilip Kumar, Rishi Kapoor, Amir Khan, Akshay Kumar
Favourite male co-stars: Sanjay Dutt, Anil Kapoor, Jackie Sheroff and Salman Khan.
Favourite female co-stars: Juhi Chawla, Madhuri Dixit, and Kajol.
His Greatest Achievement: His five awards.
One word/phrase he uses regularly: "Lets do it!"
Turns ons: Rain, lips, bhuttas, video games, computers, books, panties.
Turns offs : Liars, early mornings and the heat.
Car in school : A Maruti van.
Car now : A bright red Pajero.
Favourite TV show : It used to be Krishi Darshan but now I love everything on the Discovery channel.
On what occasions do you lie : when I don't want to break someone's heart
Memorable moments : The day I won my first Filmfare trophy.
Philosophy of life : Even if you're not hungry, just be greedy.
On a blind date you'd go out with : Madeleine Stowe.
Secret ambition : To be like Don Juan de Marcos.
If you were a burglar you'd steal : I'd like to be Santa Claus and break into homes so I could leave something behind.
You'd like to be reborn as : Chewbecca. Eat, wag your tail, roam around, that's life. And, of course, I'll live in Shah Rukh Khan's house.
Allergies : People who cramp my space.
Favourite night activity : Doing several things simultaneously - reading, playing with the computer, making love.
Favourite drink : Pepsi Cola
Terrified of : Somebody cutting off my arms. I use them so much.
Recurring dream : I never dream.
Favourite book : The Hitch-Hiker's Guide To The Galaxy by Douglas Adams.
Vegetable you resemble most : Kaddu (pumpkin)
One role you'd give your eye and teeth for : James Bond or Batman.(courtesy of filmfare)
If he was to die and were reborn, what or who would he like to come back as: As Gauri and have a husband like Shah Rukh!
One Talent, he would love to have most: Singing. He wishes he knew how to play a guitar. So whenever he went to a party, he would love to pick up a guitar and sing. He thinks it's really cool.
If he were to be born again: he would love to be a singer-not a rock star, just a plain singer.
When and where is he the happiest: His computer room and bedroom. He can't decide. He feels happy in both places. He is at peace with himself when he is lying in bed with Gauri chatting.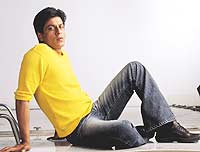 Facts
He has been voted the sexiest man in Aisa by the Jade magazine.
Shahrukh Khan has back and knee problems.
He captained all teams in football, hockey and cricket.
For a short spell shahrukh ran a rastaurant in New Delhi.
He started out as an actor on the small screen, in Dil Daiya. Then came his teleserials Fauji.
Shahrukh is a chain smoker.
Shahrukh has been compaigned for pepsi, bagpiper, Santro, Omega etc............
Shahrukh Khan launched his perfume "SK" with the French perfumers, Jeannes Arthes.
Fun with Teachers: Whenever they got a new teacher, hed pretend to have an epileptic fit. The students would pull off his shoes and would force him to walk bare feet. Everybody knew that Shah Rukh was probably taking his ass. He was really very wicked.
He was an ace in electronics and biology but wasn't good at all in mathematics. Overall a brilliant student.
The reason he took up on Mass Communications (Film making) is because he loved the TV commercials.